Toyota Leasing Options near Bradfordville, FL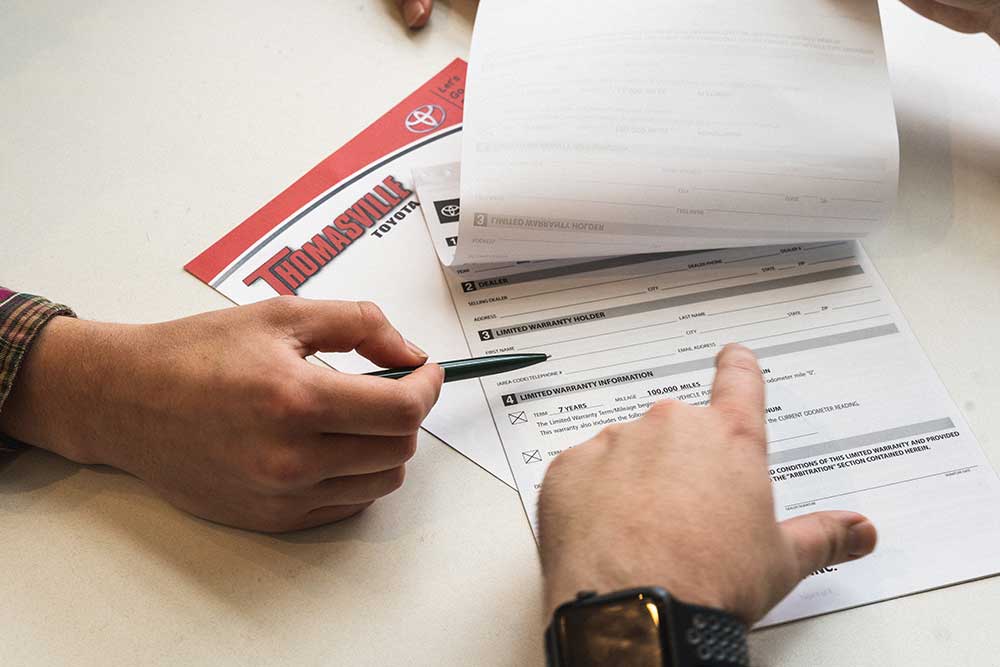 Lease A Car near Bradfordville, FL
If you've been looking into a new vehicle, but your finances aren't looking so swell, it's time to think about your other options. And we don't mean giving up your dream car or lowering your standards. Thankfully, there's a way you really can have it all when you lease a vehicle from Thomasville Toyota.
The best benefit to leasing a car is the lower monthly payments you'll have than if you were to finance the vehicle. It may seem too good to be true, but it's not. You're likely to have significantly lower payments through leasing, and you'll enjoy plenty of other benefits, too, and we'll go into more detail about those later.
Right now, though, it's time to start warming to the idea of a lease, and deciding whether this would be the best option for your current financial situation and driving habits. Keep reading for a few important things to think about when you're deciding to lease a car. If you're still on the fence, don't hesitate to contact us at Thomasville Toyota – our leasing experts will be able to answer any questions you may have, walk you through our current leasing specials, and help you decide the best financial option to drive home in the car you love.
Is a Lease Right for You?
Before you sign a lease for the low monthly payments, there are a few things you should give some serious thought. First, a lease isn't the same thing as purchasing the vehicle. You won't own the car at the end of the lease term, and your payments don't go towards owning the car, they allow you to use the car during the lease period. If you like to add custom accessories, window tints, or non-factory colors to your vehicles, you'll want to purchase your vehicle the traditional way.
Plus, you'll need to consider a few more points while you decide that a lease works better for you:
How long do you want to keep your vehicle? Lease terms are usually short-term, only a couple of years or so. If you're someone who gets emotionally attached to your cars and likes to keep them as long as possible, a lease may not be the best option for you. However, if you like to shake things up and stay on top of trends and new features, a lease would be perfect for you
How important are premium features to you? With the money you'll save by leasing a new car, you might be able to bump up to a higher trim level than you could afford if you were purchasing the vehicle, meaning you'll get more premium features and amenities.
Do you want a hassle-free trade-in experience? When you own a car, selling or trading it in can be a stressful experience. Your options are pretty narrow – you can sell it to a private buyer, or risk losing residual value when you trade it in. However, with a lease, you'll simply return the vehicle to us, and pick out your next car!
Buy or Lease from Thomasville Toyota
You'll love the vast selection of brand-new Toyota models we have in stock at our Thomasville dealership! Plus, every new model in our stock is available for lease or purchase. No matter how you decide to pay for your new vehicle, one thing you can be sure of is that you'll get a great deal when you shop with Thomasville Toyota. Come see us today, and see all of the fantastic vehicles and deals we have for you!